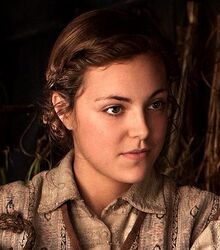 Princess Sigrid of Dale (formerly Sigrid of Lake-Town) is a character in The Hobbit, appearing in The Desolation of Smaug and The Battle of the Five Armies.
Abilities
Edit
Family/Relationships
Edit
Bard (father)
Unnamed mother
Bain (older brother)
Tilda (younger sister)
Girion (paternal ancestor)
Girion's Wife (paternal ancestor)
Girion's son (paternal ancestor)
She was originally going to be Bard's wife and Bain and Tilda's mother.
Ad blocker interference detected!
Wikia is a free-to-use site that makes money from advertising. We have a modified experience for viewers using ad blockers

Wikia is not accessible if you've made further modifications. Remove the custom ad blocker rule(s) and the page will load as expected.