Master of Lake-town's house
Edit
The Master of Lake-town's house was the Master's residency. It was known to hold secret compartments in case of emergency.
The house was destroyed along with the rest of Lake-town.
Bard's house
Edit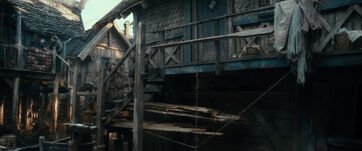 Bard's house
was Bard's family residence before the house was destroyed in Lake-town by Smaug. Bilbo Baggins, Thorin Oakenshield and their companions stayed there for a brief while. Later, Bofur, Kili, Fili and Oin returned to the house, where Bard and his family attempted to bring Kili back to health.
This house was also destroyed during the Destruction of Lake-town.
Inhabitants
Edit
Bain (formerly)
Bard (formerly)
Bofur (briefly)
Fíli (briefly)
Kíli (briefly)
Óin (briefly)
Sigrid (formerly)
Tilda (formerly)
Ad blocker interference detected!
Wikia is a free-to-use site that makes money from advertising. We have a modified experience for viewers using ad blockers

Wikia is not accessible if you've made further modifications. Remove the custom ad blocker rule(s) and the page will load as expected.