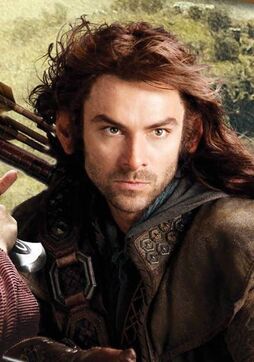 Prince Kíli is a main character in The Hobbit film series. He was the son of Dís, the brother of Fíli, the nephew of Thorin Oakenshield and Frerin, a close friend of Bilbo Baggins,, and the true love of Tauriel. He fell in love with Tauriel, an elf.
Dís (mother)
Unnamed father
Fíli (brother)
Thorin Oakenshield (maternal uncle)
Thráin II (maternal grandfather)
Thrór (maternal great-grandfather)
Dáin I (maternal great-great-grandfather)
Frerin (maternal uncle)
Frór (great-great-uncle)
Grór (great-great-uncle)
Náin (first cousin twice removed)
Dáin Ironfoot (second cousin once removed)
Thorin III Stonehelm (second cousin twice removed)
Ad blocker interference detected!
Wikia is a free-to-use site that makes money from advertising. We have a modified experience for viewers using ad blockers

Wikia is not accessible if you've made further modifications. Remove the custom ad blocker rule(s) and the page will load as expected.