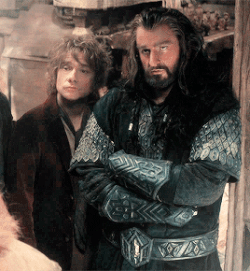 "Thilbo" is the fan-dubbed name given to the Thorin Oakenshield/Bilbo Baggins friendship pairing in Peter Jackson's The Hobbit.
Thorin Oakenshield is the king of Durin's folk and leader of his company. Bilbo Baggins is a Hobbit, who comes from the Shire and became a valued companion to the dwarves of Erebor. Though not initially getting along, both men respected each other and became very close friends.
TBA
An Unexpected Journey Edit
TBA
The Desolation of Smaug Edit
TBA
The Battle of the Five Armies Edit
During the Battle of Five Armies, Thorin and Bilbo are separated. When the duo did meet each other again, Thorin was immediately filled with regret but relief when He saw Bilbo again during the Skirmish on Ravenhill.
Their last scene together is Thorin dying on the frozen lake and quickly apologizes to Bilbo and accepts him as his true friend.
First seen together in An Unexpected Journey and both have originated from Tolkien's 1937 novel, The Hobbit.
Thorin is portrayed by Richard Armitage and Bilbo is portrayed by Martin Freeman.
Fans have called them "Thilbo," but it is not canon; however this relationship is platonic in this series.  
An entire page was dedicated to their relationship in The Battle of the Five Armies movie guide.